We always used natural oils like Coconut, Jojoba, Krappa, and Almond
from Suriname when I was growing up. My mother combined these oils with other ingredients to create the ideal blend. This home made mix was beneficial for my skin, as I had eczema, so I needed natural products.
That is why I am still a fan of making/mixing my own skin products. Here I share a recipe for a body butter consisting of Shea butter, almond oil, cocoa butter, a little water and a few drops of lavender oil.
What is Shea butter and what are the benefits in a body butter?
Shea butter (also known as shea butter or shea butter) is extracted from the nuts of the African shea or shea tree. Shea Butter has been used for many things in various African countries. It nourishes and moisturizes the skin and is rich in vitamins A, D, E and F. Therefore it is used for hair and skin for dry skin, eczema, stretch marks, sunburn, dark spots, scars and chaps.
What are the benefits of almond oil in a body butter?
Almond oil contains vitamins A, B1, B2, B6 and E. Almond oil is also quickly absorbed by the skin, because it resembles the body's own sebum. Because of this, I also find almond oil a fine oil to mix in body Butters.
What is Cocoa butter?
Cocoa butter is extracted from the cocoa bean. And that's why it smells delicious! Cocoa butter is hard and melts on contact with the skin. Cocoa butter contains vitamins K and E and therefore keeps your skin healthy and supple.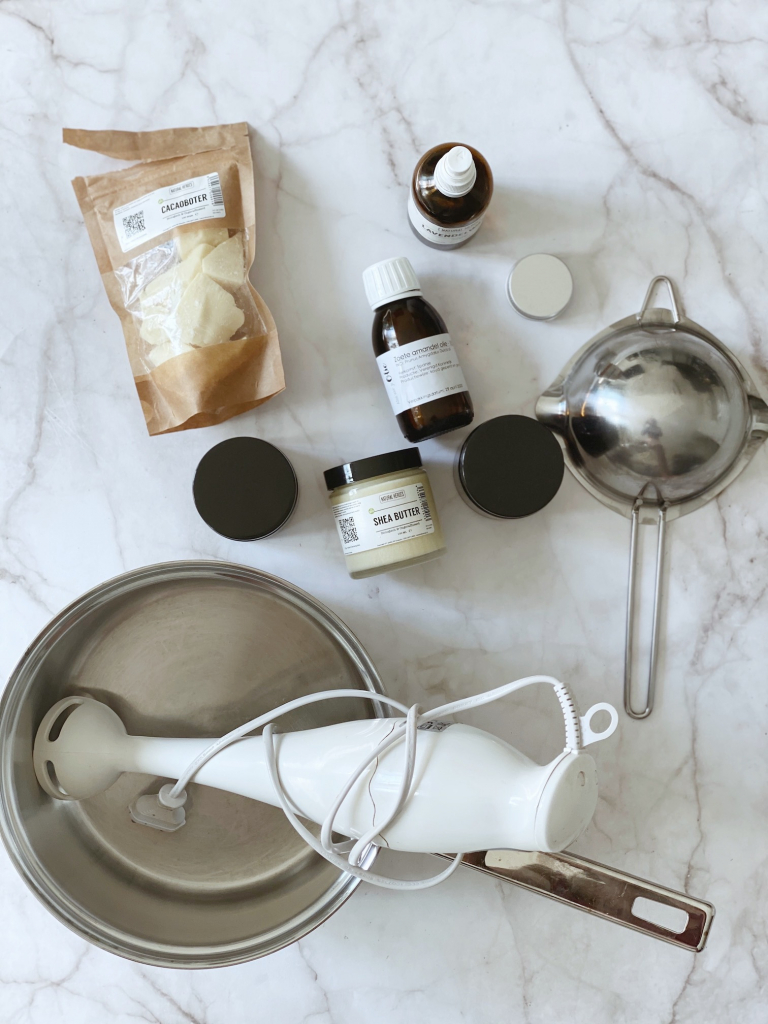 Ingredients
If you've read a few of my articles, perhaps you know I'm not that strict with recipes. I always mix according to taste and wish. That's why I'm better off cooking than baking cookies, for example, because you really have to follow directions for the latter. To give you a bit of an impression, the dimensions are given below. Because of Covid, I ordered all my ingredients online, but these ingredients are nowadays easy to find everywhere. This recipe is based on 1 jar of body butter. But above all, feel free to mix your choice.
15 g Shea Butter
10 g cocoa butter
15 g almond oil
A few drops of lavender oil (mine was used up now, so I used Lavender water instead, which also made it slightly more moisturized).
Equipment
Small glass container
Au bain marie pan and a regular pan Bowl
Hand mixer or stand mixer
spoon
Instruction
Melt Shea Butter until it liquefies in the au bain-marie pan. This makes the pan hot due to the heat of the water and the oil is not baked. Then put it in a bowl.
Then do the same with the Cocoa Butter and add it to the melted Shea Butter.
Now add the Almond oil and lavender oil (in this case drops of water).
In the refrigerator until thick / stiff. This can take 10-30 minutes.
If it is hard, you can mix it with the blender and put it in your jar.
Have fun! I would love to hear about your creations. Feel free to ask me any questions about this. And have a look at these posts if you are interested in more clean and sustainable body topics.